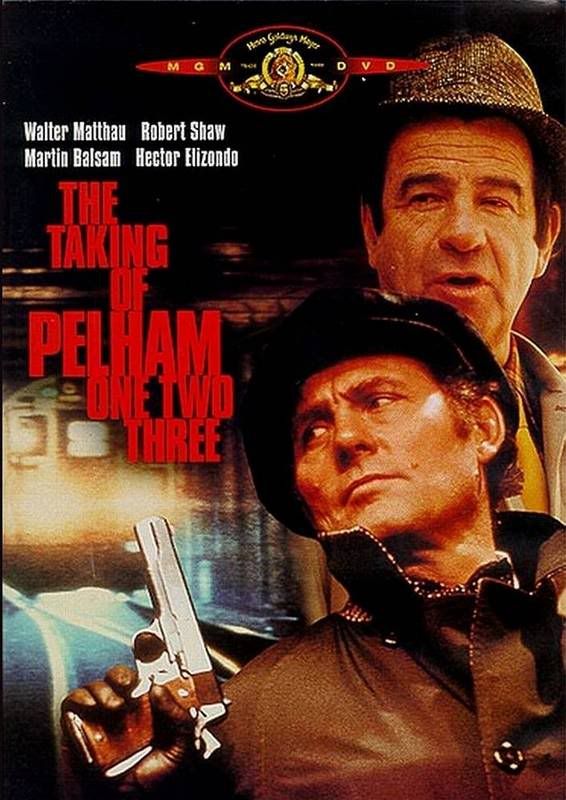 ABOUT:
The Taking of Pelham One Two Three
(also known as
The Taking of Pelham 123
) is a thriller movie released in
1974
. It stars
Walter Matthau
,
Robert Shaw
,
Jerry Stiller
, and
Martin Balsam
; it was directed by
Joseph Sargent
, produced by
Edgar J. Scherick
, and was based on the
novel of the same title
by
John Godey
.
Peter Stone
wrote the screenplay, which takes its basics from the novel but is highly different in its approach, embracing a kind of NYC cynicism.
Four armed men hijack a New York City subway train and demand 1 million dollars - which must be delivered in 1 hour - for the train and the lives of the passengers held hostage. Lt. Zachary Garber of the New York City Transit Police must contend with City Hall red tape, the unrelenting demands of the hijackers, and the ever-ticking clock in his efforts to save the passengers and bring the hijackers to justice.
In
1998
, the film was remade as a
television movie
with
the same title
, with
Edward James Olmos
in the Matthau role and
Vincent D'Onofrio
replacing Shaw as the senior hijacker. Although not particularly well received by critics or viewers, this version was reportedly more faithful to the book, though it updated the setting with new technologies. It was also devoid of the quirky humor that made the original so memorable.
Another remake, directed by Tony Scott and starring Denzel Washington and John Travolta, will be released in 2009.

MY REVIEW: I've been waiting a long time to see one of those 70s NYC crime movies that I haven't seen before. I have never even heard of The Taking of Pelham One Two Three until recently when I found out that it was being remade by Tony Scott. So I thought that I would check it out before I saw the remake since usually the original films are better.
I was tickled to see Walter Matthau in a serious but comedic role and Jerry Stiller looking not young but middle aged was pretty funny too. Robert Shaw is awesome as the leader of the train kidnapping gang. I like how the movie is serious and at the same time playing for laughs. I doubt that the remake will be like that but its always nice to change things up a bit.
The film is suspenseful all the way through and a subway train is a nice change of scenery after countless bank heist films.
MY CHEESY RATING: The Taking of Pelham One Two Three will take you on a suspenseful subway ride. 7 out of 10
DOWNLOAD "THE TAKING OF PELHAM ONE TWO THREE" FOR FREE USING BITTORRENT
BUY "THE TAKING OF PELHAM ONE TWO THREE" FROM AMAZON.COM FOR $10.99