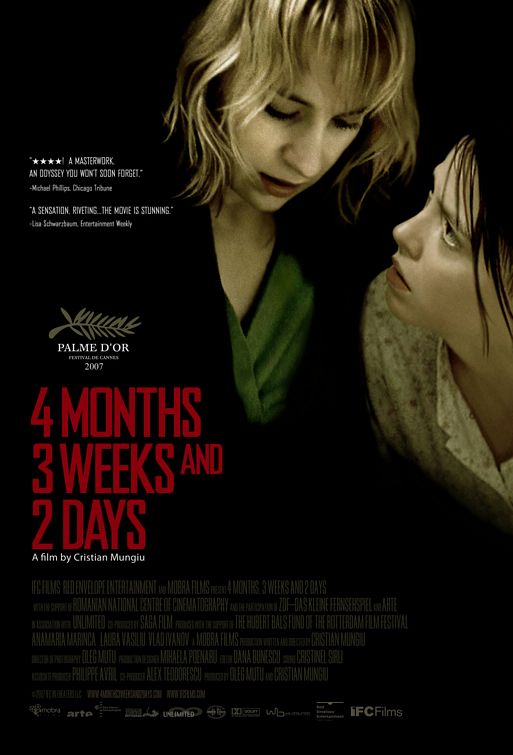 ABOUT:
4 Months, 3 Weeks and 2 Days
(
Romanian
: 4

luni

, 3

săptămâni

şi

2

zile

) is a
2007
Romanian
film, written and directed by
Cristian

Mungiu
. It won the
Palme
d'Or
and the
FIPRESCI
Award at the
2007 Cannes Film Festival
.
4 Months, 3 Weeks and 2 Days
unfolds in Romania in the late '80s, during the last waning days of Communist rule.
Anamaria
Marinca
and
Laura

Vasiliu
play, respectively,
Otilia
and
Gabita
, two female friends and students who share a Bucharest flat. They soon find themselves saddled with an overwhelming problem:
Gabita
is expecting. With abortion illegal in Romania at that time, the women seek an illicit termination at the hands of one Mr. Bebe (
Vlad

Ivanov
) in a seedy Romanian hotel -- but Bebe refuses to accept money in return for his services and demands a certain "alternate" commodity instead.
MY REVIEW:
If Juno was a darker film with all the fun personalities drained from the characters and Juno had decided to go through with the abortion, it would be like 4 Months, 3 Weeks and 2 Days. Sometimes its good to have two films with the same idea and both be very different.
This film plays like it could really have happened this way in 1980s Romania. This film is not flashy, doesn't have any music and each scene is shot in long takes that don't try to show off. It gives the movie that edge that makes the audience pay attention more. It reminded me of Vera Drake, another good illegal abortion movie, however the abortion doctor in 4 Months isn't as caring and warm as Vera. The abortion doctor supplies the most cringe worthy scenes in the movie and not in the way you might think.
After the abortion doctor exits the film it starts to slowly drift away. After the abortion scene we follow Otilia to meet up with her boyfriend at his parents' place for a get together. The scenes here last forever when they shouldn't. This part of the film is important yes but like the scene when everyone is at the dinner table and they just talk and talk, it goes on for almost 10 minutes with everyone just talking about stuff while Otilia looks down at the table. It could have been done in 2 minutes and we could still get the point but it keeps going until I started to think that we were going to be here until dessert. The films long shots work for it in crucial and tense scenes, but not when a character is just walking down a street for 5 minutes.
There is nothing special about the movie and nothing we haven't seen before besides the fact that it is Romanian and tells it like it is. That is what makes the film good but there are better movies out there about the same subject, like good ol' Vera.
There wasn't any features on the DVD that I watched, but there are always different DVD versions when it comes to foreign films and with this film in paticular there has to be one out there that has features on how this movie was made.
MY CHEESY RATING:
4 Months, 3 Weeks and 2 Days is long enough for a 6 out of 10.
DOWNLOAD
"4 MONTHS, 3 WEEKS AND 2 DAYS" FOR FREE USING
BITTORRENT
BUY
"4 MONTHS, 3 WEEKS AND 2 DAYS" FROM
BUYCDNOW
FOR $22.46