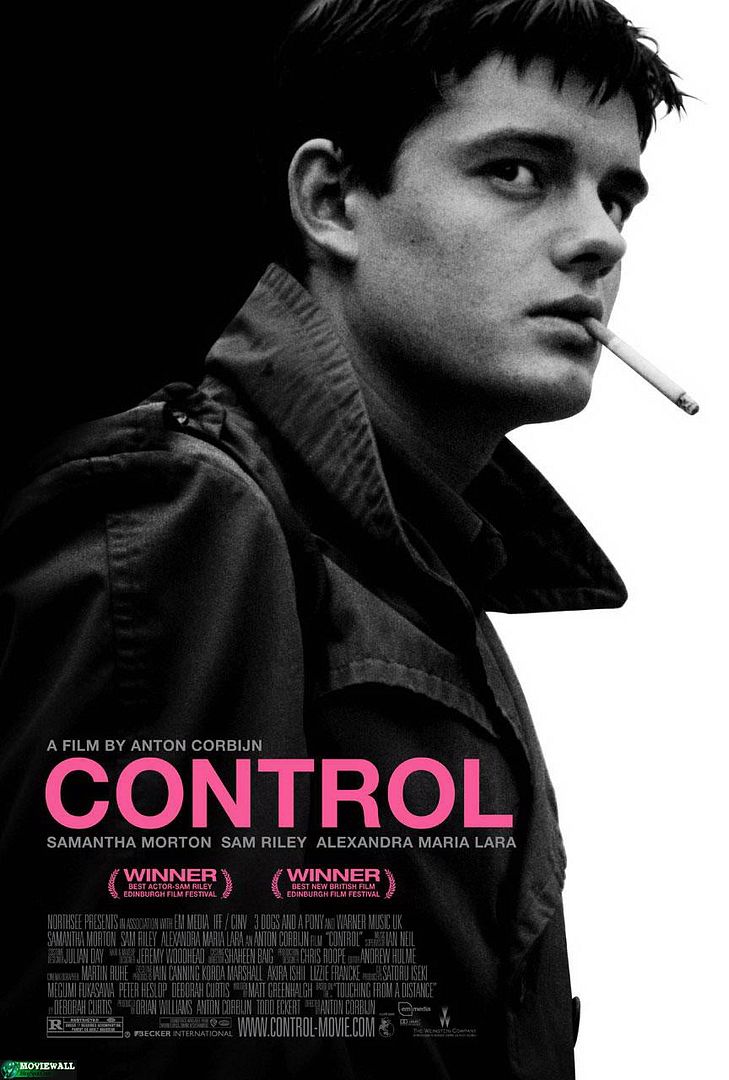 Control
is a 2007 film, directed by
Dutch
director
Anton Corbijn
. The black-and-white film is a
biopic
about the late
Ian Curtis
(1956–1980), lead singer of
post-punk
band
Joy Division
. The screenplay written by Matt Greenhalgh is based on the book
Touching from a Distance
, by Curtis's widow,
Deborah
, who is also a co-producer of the film.
Control
documents the life of a legend who changed the face of modern music but never lived to witness the remarkable impact of his life's work. The time was the late 1970s, and the post-punk explosion was just gaining momentum in England. At the forefront of this movement was a band named
Joy Division
.
Formed in 1976 and first calling themselves
Warsaw
,
Joy Division
favored mood and expression over the aggressive stance that had come to define punk rock. The band was championed by Factory Records founder
Tony Wilson
, and collaborated with producer
Martin Hannett
on the album that would become their undisputed masterpiece -- 1979's Unknown Pleasures. But despite the band's rising popularity, lead singer
Curtis
was not in good mental or physical health due a debilitating battle with epilepsy and an extramarital affair, and hanged himself in his Macclesfield home on the eve of the band's first U.S. tour. Newcomer
Sam Riley
stars opposite
Samantha Morton
in the film that sets out to tell the definitive story of a true rock & roll legend.
It's sad that this is all we have from Ian Curtis. Two albums and a legacy that lives on because of his sudden death by his own hands. Maybe if he didn't die we wouldn't be talking about him. Maybe Joy Division would have faded away after a few albums and forgotten. I doubt it but we will never know. What we do know is that he killed himself and left some great music behind. We will never get to hear what more he could have created.
After his death, Joy Division went on to become New Order, a completely different type of sound than Division. I like New Order but they don't come close to their sound when Curtis was around. While watching Control, I realized that Curtis is a much better Jim Morrison. They both have the same type of sound, both were great writers, both married early, both cheated on their wives and both died young. I'm not a big Doors fan but Morrison had a talent that is much like Curtis but any day I would pick Curtis. The way he moves onstage and his awkwardness is fun to watch. An added bonus is that the music is great too.
Control is a well made piece of filmmaking. It is true to life since Curtis' wife produced it and beautifully shot in black & white. Riley does a great job as Curtis. Not so much as looking like Curtis but nailing the way he played onstage. After the movie I went on YouTube and watched some videos of Curtis. Riley doesn't miss a beat and neither does the movie.
Control: 8 out of 10.
The DVD features commentary, making of stuff and some music vidoes that are a treat to watch.
DOWNLOAD
"CONTROL" FOR FREE USING
BITTORRENT
BUY
"CONTROL" FROM
AMAZON.COM
FOR $16.99